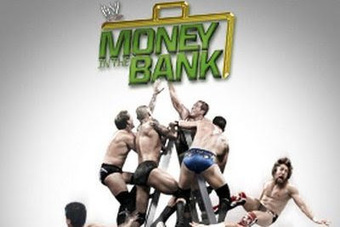 'Money in the Bank' has quickly become the WWE's 5th biggest event, more or less. It has been home to some of the most memorable incidents and matches of recent years, not least the ladder matches themselves. Whilst I think the impact of winning a briefcase is vastly overplayed (read about that here http://tjrwrestling.com/articles/money-in-the-bank-or-short-term-loan–2), it still makes for a damn thrilling event. Here's how I see tonight playing out.
John Cena vs. Mark Henry
Henry's fake retirement speech a few weeks back was an absolutely beautiful piece of television. I was totally taken in by it, so much that when the World's Strongest Slam came, I definitely peed a little in my heart. So, in a perfect world, Henry wins here. Obviously he won't, Cena will take everything and somehow manage to FU Henry and Michael Cole will have a fit because of it. Oh, Cena, you so stale. John Cena to win.
Alberto Del Rio vs. Dolph Ziggler
I think Del Rio has to win here, otherwise they are in danger of hot shotting the belt a bit too much. I would say Del Rio wins thanks to some sort of problematic interference from Big E and AJ, leading to that break up happening. Sad times.
CM Punk vs. Randy Orton vs. Sheamus vs. Daniel Bryan vs. Christian vs. RVD
Man, look at the quality of that list. That's 5 legitimate top tier guys (and RVD). This will be the match of the night, barring a horrible mistake. Daniel Bryan has to win though, because he's the best thing going that isn't from Shitsville, South and wears a sheep mask. On that note, no one should replace Kane, unless its Shelton Benjamin.
Wade Barrett vs. Cody Rhodes vs. Damien Sandow vs. Fandango vs. Antonio Cesaro vs. Jack Swagger vs. Dean Ambrose
I'm super looking forward to this match. This is exactly what Money in the Bank should be, a showcase for those on the cusp of the top to get that final push. I honestly don't mind who wins at all here. My favourites would be Cesaro, Cody or Ambrose, but I'll go with Wade Barrett to pull it off.
Curtis Axel vs. The Miz
Snore. Axel to retain. It won't be terrible, but it won't be particularly memorable either I suspect.
AJ vs. Kaitlyn
Whilst the booking of this has gone somewhat awry, this should still be a solid match. They had a wonderful little bout at Payback last month, so here's hoping they can keep that quality up. I think Kaitlyn will win but AJ will hold on to the title, leading to a 3rd match at Summerslam. I'm looking forward to it immensely.
Chris Jericho vs. Ryback
As long as Ryback doesn't call off the match, I'm not bothered. Jericho is off on tour soon, so Ryback to win fairly convincingly and to get back on track. I like the direction of his character though, he's as layered as anyone at the moment, which this time last year would have been inconceivable.
The Shield vs. The Usos (Kickoff show)
So The Shield have gone from wrestling main event guys on a weekly basis to wrestling The Usos on the pre show? No dis-respect to the Uso boys, but that's frustrating. The only correct result here is for The Shield to win. WWE needs to introduce a Chikara style points system for tag challengers, to avoid The Shield losing silly non title matches and to build an actual division of strong competition. It's so easy to do.
And there we go. It'll be a grand show, I'll be watching like a child as per usual. Night shifts can be good for something sometimes.